Be more professional, productive, and profitable
Our biggest app upgrade ever. We've raised the bar on the in-home buying experience. Now, you can combine the best-consumer buying experience with the most professional, productive, and profitable sales-to-install process.
Yes, it's a big change. But relax, you can ease into the changes over time. Your workflow remains the same. Our defaults get you started with a "looks like, feels like" what you are used to using today – while unlocking the ability to move beyond good-better-best when you are ready.
Beyond Good-Better-Best
Use personalized proposals to win more deals. Tiered pricing has been around for over 100 years. The concept is very simple. Start with a baseline product or solution. Then, add or subtract product features to meet your customer's ability and willingness to pay. The simplest tiered pricing variation is a three-tier approach known as Good-Better-Best.
Why is tiered pricing so popular? Because people value features differently. What's best for one customer – who values a low initial price, may not be best for someone else – who values low monthly utility bills. Good-Better-Best terminology (or any other naming convention) simply doesn't work for all customers. For example, what is "Best" for one customer might be priced the lowest, yet contractors generally want to call the "Best" solution the one that is priced the highest.
Why are three pricing tiers such a powerful approach? Let's consider the alternatives. Without any choice – a single price - you push a buyer into a "take it or leave it" corner that just doesn't sit well. Two options put you into a better position as a seller, but there is a problem with two choices. With just two choices a buyer's mind might jump to the conclusion that one option is the right decision, while the other option is the wrong decision. This can freeze a buyer as they struggle between a right or wrong decision
Goldilocks choice. Somehow three options frees up a buyer's thinking. With three options, buyers are neither forced into a corner (one option) nor frozen (two options) into a right vs. wrong decision. Three options lead many to a psychologically comforting middle ground of a Goldilocks choice - not too hot, not too cold, it's just right. More than three choices can lead to choice overload. Too many choices can also freeze a buyer. These customers need you to guide them
Be a guide. As you walk your customer through this maze of choices, remember to reinforce:
Why they should buy from you - your company's value proposition
What equipment they should buy - your recommendations
Offer a choice on how to pay - pay outright, offer various finance programs, or even a lease
Release 9 goes beyond Good-Better-Best in three ways
Named Options.

You can go beyond the classic Good-Better-Best names to create option names that are far more meaningful to your consumers. For example, Best Performance, Best Value, and Best Price are popular, non-judgmental names. You can choose terminology to match the naming convention of one of your brands – see the table for some examples.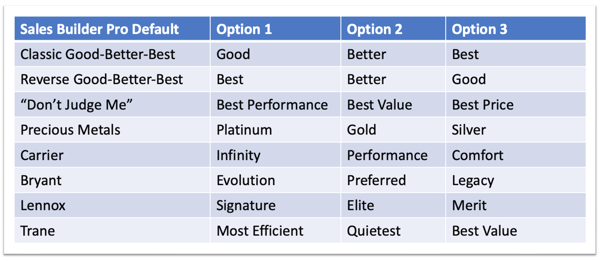 Compare Payments

. You can also go beyond Good-Better-Best by including a choice of payment type. On each Option tab, you'll now be able to recommend and compare payment types to get just the right mix of payment options.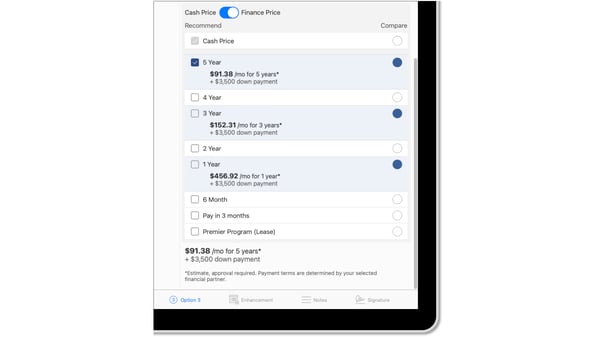 For example, converting an expensive purchase to a $91/month payment with a $3,500 down payment might allow your customer to purchase what they need at a monthly price they can afford.
Bundling a healthy air package or utility bill-saving thermostat suddenly becomes an "it's just a few dollars more per month" discussion that opens the door to long-term value for the customer and a higher ticket price for you.
Personalized Proposals

Finally, you can customize the Proposal Name, the Option Names, and even the description. You can customize on the app at the point of sale to fully personalize the proposal name, option names, and description to fit your customer's wants and needs. Touch Customize on the Signature tab to unlock this new capability. Some examples of personalized option names:

Lowest Utility Bills

Ductless Solution for Home Office

Includes Healthy Air Package

10-year Trouble-Free Plan

Best Value - This is my personal recommendation for you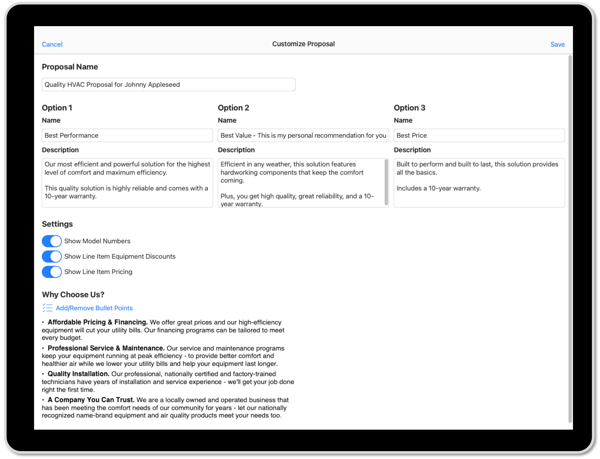 Enhanced Option Tab
Recommend and Compare Payment Types. You recommend one payment type for comparison to multiple payment types on the Options tab.
Recommend and compare unlimited payment types with a new, crystal-clear layout.

Cash price can be listed first, last, or not at all. For example, there is no need to compare the cash price if you just want to "sell the payment" and there is no actual cash price if it is a lease program.

Payments sort from low to high, or high to low to meet your needs.

Customize your cash price label and finance program footnote for better transparency.
All-in-One Signature Tab
Summarize, Select, and Sign. The new Signature Tab now offers a complete summary (eliminates the legacy Summary), lets you select an Option and Payment type, and Sign. Other new features include:
Savings - Touch View

Brochure Manager - Touch Open

Details - Touch Show Details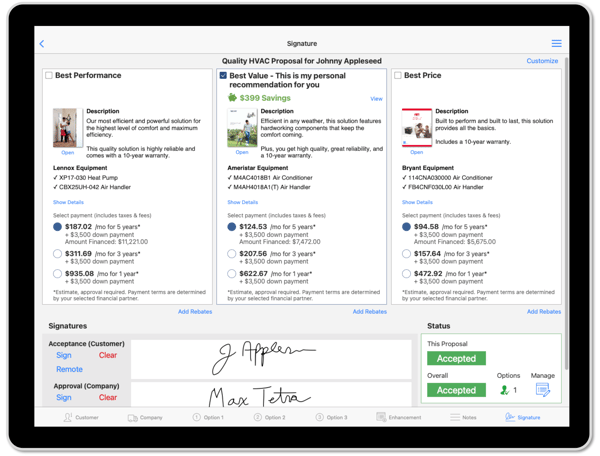 Spotlight Savings - On the Signature Tab
Savings are a powerful psychological motive for buyers. After all, who doesn't like to save money?

In Release 9, Sales Builder Pro positions savings at the top of the Options panel, to reinforce Savings with a piggy bank icon. You can touch View to see the details and explain those savings to the consumer.

Further customizations include the option to show or hide the piggy bank icon. You can re-label "Savings" with a custom setting, such as "Discounts, Credits & Rebates" or anything else that better fits your business model.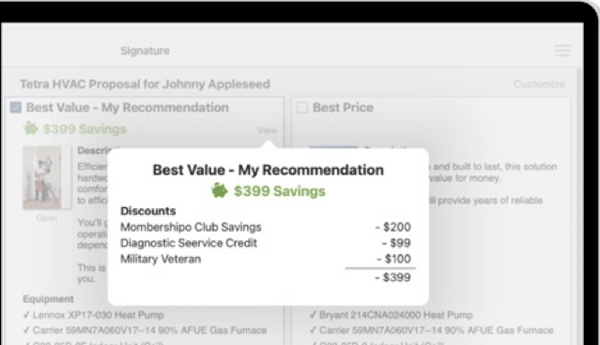 Brochure Manager - On the Signature Tab
You'll notice a new Brochure Manager carousel on the Signature tab.
Just touch to open, scroll if needed, and touch to view.
Since we manage the brochures for you there is nothing to forget. And a lot less work for you.
You'll have powerful sales collateral at your fingertips - literally and figuratively - on every sales call.
Ductless Design Tools has been enhanced to show images of the selected indoor units in the Brochure Manager.
Hide Complexity - On the Signature Tab
Simplify for more wins, you can expose details when needed.
You'll be able to hide HVAC equipment detail when it isn't really needed.
You'll be able to show HVAC equipment detail when it is needed.
All-New, Notes Tab
More space for notes. Less clutter on the Signature Tab.
With Release 9 you get more space to enter notes.
The new Notes Tab avoids unnecessary clutter on the Signature Tab.
You'll notice the new Notes tab along the bottom of the iPad navigation. It's right before the Signature Tab.
New, Leasing Program Support
More ways to pay, more ways to win. Sales Builder Pro 9 supports leasing programs.
In the past, Sales Builder Pro required you to show a "cash" payment. However, for a lease, there is no cash equivalent, there is only a monthly lease amount.

Check out our news release to learn more about leasing and our partnership

that provides access to Service

1st's Premier Program.

The Premium Program

is a worry-free service for homeowners to replace and upgrade their heating, cooling, and plumbing systems for a low monthly payment while eliminating the common pain points associated with owning, maintaining, and repairing such systems.
Enhanced Proposal (PDF) Layout
Sales Builder Pro's new, enhanced layout mimics the new Signature Tab. Key features: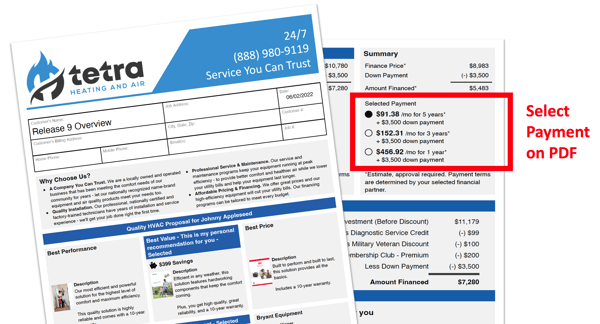 Deal Manager Updated to Allow Payment Selection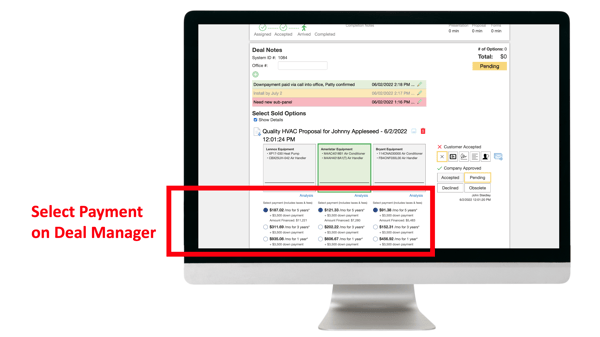 Call Center personnel can now assist your customers in selecting both an Option and a Payment using Deal Manager.
Click here to Learn More.